BALLGOWN is finished!! Hoping to get it to it's final home before Thanksgiving.. Other dress is nearly completed. A few issues with my sewing machines & trying to get my body to cooperate in a sitting position for more than 5 minutes has caused such a delay. I think my thorasic ribs are trying to fuse & they seem to get 'stuck' when I'm sitting in one position for too long. Gotta keep moving & gotta work on better posture!! It looks (thankfully) that this AS flare-up is reducing enough for me to function in day-to-day life.
here are the 2 dresses in their near completed stage: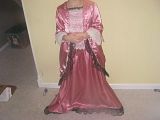 Sadly, for awhile anyhow, it looks like I will have to put my machines into 'retirement'. The whole process of making these beautiful gowns really puts a strain on my body and I cannot keep a good working schedule to fit my customer's demands. I'm hoping after getting appropriate care & get this disease under some form of control, I may be able to start sewing again. If I have a series of good days, I may sew something & list it on ebay or etsy. If you have a special request for an order, send me a message & I can see what I can do for you at that time!
For now, I will focus more time on sculpting as I can sit back in a reclining chair and sculpt without as much strain on my back.
Hope you all have a great weekend!