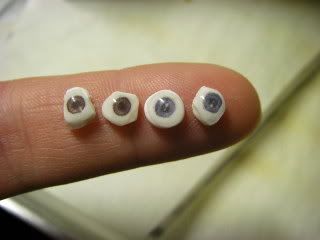 Ok... got the eyes figured out and have a picture here... I am sooo unhappy with the way the last sculpt is looking and am working on a new one.... with a pair of these eyes. Hopefully they'll work out better! I printed irises on transparency paper, then put them on a bit of white clay, dropped a bit of
liquid Fimo
on the iris and baked for 5 minutes on 250 degrees. cooled, then added more liquid Fimo across the whole eye to give a 'dome' effect. baked for 5 minutes at 250 degrees. cooled. hit them with a heat gun (I use an embossing gun) a bit until the iris clears up. I made the whites too big so I cut them down a bit which is why they are odd-shaped. The whole white does not show in a sculpt, so it's ok if it's not a perfect circle. Normally, glass eyes cost anywhere from $5 a pair to $30 a pair! And you usually cannot find them at the 2mm or smaller size! The most challenging part is to get the eyes to print at the right size.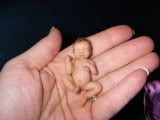 Here's a sculpt I did 'on the side' while giving my brain & hands a rest from my current portrait sculpt struggles.
If anyone who's on my list wants this one as their sculpt, let me know. Maybe she looks like one of your babies...? I can add wings if needed. The way she is set up is in the purple flower and in a glass vase for display. But that can be changed as well.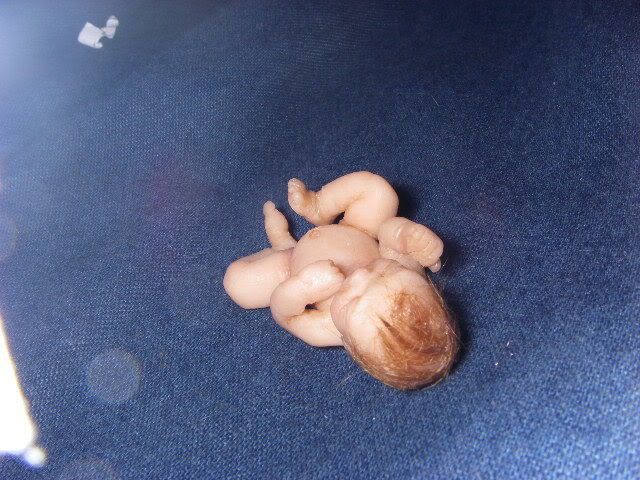 If nobody here is interested in adopting this OOAK baby then I'll probably post her on eBay or etsy.com.
Contact Me
if you're interested in this sculpture. I love the teeny, tiny feet!!! Look at those little toes!! So far, she is one of my best ones! I'm so glad to be improving each time!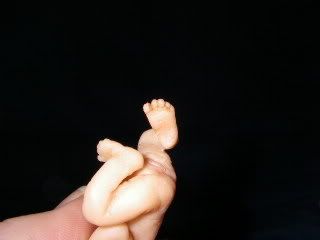 Otherwise, I've been busy trying to update my website in the wee hours of the morning. I've found I can combat that middle-of-the-night wake-up-in-pain problem by not going to sleep until 3 am!! But there's STILL not enough hours in the day to get everything done! Oh well, I'm so glad everyone here is patient with me in getting the sculptures done. Stiff joints & a 'dull' mind are not the best companions for an artist!! Well, I'd better get off the blog now & get back to sculpting... Hopefuly I'll have something 'to show' by tomorrow or at least by this weekend. Stay warm, everyone! We've got over 2 feet of snow on our deck & it's calling for MORE! UGH!!! Time to move to a warmer climate!!